Profession of the new age
Horses connect in ways that often cannot be expressed through words, but are well understood by our hearts on a deep level. Horses bring us into our hearts and feelings. Horses are living mirrors and therefore powerful partners in personal development.
Equine assisted coaching uses the power of horses to mirror people and initiate change.
You want to learn this healing work with horses? Supporting people in their process together with horses? Develop yourself and live your potential?
Then this training is just right for you on your way.
Trainer
Anna Kerckhoff de Sacchi
For more than 10 years now I am certified as EquusCoach and accompany people together with horses in equine coaching. I love this work and it gives me great pleasure to teach and pass it on myself. Since the year 2019 I offer the equine assisted coach training with us in Portugal. I call my "method" Cavalo Coaching, from the Portuguese Cavalo = horse.
In the training you will learn how to deal with horses and people in a respectful and trusting way in the context of equine assisted coaching. You learn and experience which practical exercises are applicable in which context.
Horsemanship & Horse Knowledge: Equine psychology, horse behavior, social behavior, instincts, herd rituals.
Language of horses, non-verbal communication
Reading and understanding horses
Safety aspects in the work with horses and coachees
Mindful and conscious interaction with horses and people
Coaching: Theory and Transfer
Coaching with the Work of Byron Katie: Theory and Exercises
Neuroplastic Basics & Heart Brain Coherence
Meditations
Practical coaching exercises with horses
Self-reflection and feedback round
To start the training, you should have relevant experience with horses and ground work / communication as well as with coaching or therapeutic work with people. If this is not the case, participation in the preparatory seminars is a prerequisite (we can clarify this individually in a meeting in advance):
Participation in the Monty Roberts Introduction Course (I do not currently offer this course myself, but colleagues do) or the course Join-Up® / Natural Horsemanship
Participation in the RETREAT – Journey to your true self (German) or the RETREAT – Journey to your true Self (English).
Another prerequisite is the willingness to work on one's own issues and to enter into an open exchange with the other participants based on trust and respect.
For those who have no experience with horses at all, there is the possibility of an additional basic course.
Dates of the prerequisite seminars:
15. – 19. Mai 2023, Barão de São João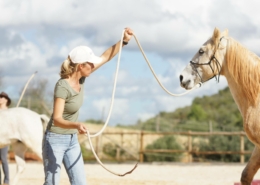 May 22-26, 2023 & October 16-19, 2023, Barão de São João.
In 2024/25, training will take place in English and German.
Training dates in English:
1st week of training
April 15-20, 2024
2nd week of training
September 22-27, 2024
Training dates in German:
1st week of training
October 21-26, 2024
2nd training week
May 5-10, 2025
Place: Barão de São João, Algarve, Portugal
max. 6 participants
– 2 training seminar weeks at intervals of 4-12 months on site in Portugal
– 6 Online seminars
– Conclusion & Certificate
Price excluding VAT, accommodation and meals
– Coaches, Consultants & Therapists (m/f/d)
– Interested with horse experience
– Interested parties without horse experience can attend appropriate courses to get started.
– no riding experience is necessary
Procedure – 6 Online Seminars
After the first week of training, we all meet regularly online for exchange, supervision and mutual support. All participants are invited to conduct practice coaching sessions with coachees starting in the first week of training. These are presented and discussed as examples.
There are 6 online appointments of 1.5-2 hours in length.
In the second week of training, in which what has been learned is deepened and practiced, the prospective coach leads a coachee through a coaching session.
After a successful coaching session, each participant receives a certificate as an equine-supported Cavalo Coach. It is also possible to use the internationally recognized logo of the EAHAE – International Association for Horse Assisted Education for a reduced fee.
This is the completion of the training and the beginning of your own equine assisted coaching career. Even after graduation, I am available for questions and supervision. Furthermore, there is the possibility to gain further experience as an assistant at my seminars. No one is thrown in at the deep end and left alone. The herd and I as the lead mare are always present.
Béatrice Esser (in Anna's team), Barão/Portugal
About me
Name: Béatrice Esser
born: 1983 in Germany (NRW)
residing in: Portugal, from 2019
Mother tongues: German, French
Other languages: English, Dutch, Portuguese (basic knowledge)
I have been in close contact with horses since childhood. My natural curiosity about life and interest in the well-being of people and animals accompanies me to this day.
So in the summer of 2021 I came into contact with Anna and her horses and had the great fortune to experience the herd up close for half a year. In 2022 I then successfully completed the training as an equine assisted coach with and by Anna. Since then, I have been offering one-on-one coaching and one-on-one guidance, both on-site with a horse and by telephone consultation.
The wealth of experience from the past years, the work with people and also animals form my trustworthy and solid basis for this wonderful work.
As a coach I support you in a protected environment, with an open ear and non-judgmental, to guide you towards your personal solution! Do you feel addressed? Do you have a request? Do you want to know more about me? Feel free to contact me!
I look forward to seeing you!
Contact: +49 – 1631775312 (WhatsApp, Telegram)
Christine Stelzer, near Göttingen, Germany
For a long time I have worked with horses and people in different ways and in 2019 I have added Cavalo Coaching training to my repertoire. I not only apply the knowledge I learned in the training in coaching contexts, but it also helps me in my work as a riding instructor. Horses mirror our inner self. This helps us in our own reflective and further development. They mirror us in every interaction. Thus, the origin of many a training or riding difficulty lies within people, which the horse mirrors. My goal is to accompany encounters between people and horses and to help both grow together and feel an intimate connection.
Contact: Tel +49- 15159171565 (WhatsApp). Email: ChristineStelzer@gmx.de
Conny Kadia, Portugal (Coimbra)
Conny Kadia, née 1965 in Germany, lives in Portugal since 1992 and works with horses since 2003. After a career as a professional musician, in 2020 she dedicated herself to her passion with horses and now offers Equicoaching in her new project "Mondequus" – Connection Training (MCT) near Coimbra in Portugal.
"For a "re-connection" with nature, horses are fantastic. They have very healthy and honest instincts, horses can lead us to our roots. Equicoaching is a perfect combination for individual – and group coaching in private and professional life to find blockages and release them naturally!" cke
Since 2006 Conny Kadia has taken courses in Natural Horsemanship, has taken lessons in traditional Portuguese riding, has worked part time at various riding arenas, and does trail rides with her own horses.
In 2022 she has certified for "Equine Assisted Coach / Equicoaching" with instructor Anna Kerckhoff de Sacchi in Portugal/Algarve.
Since then she has been successfully working with people, her program includes the following training:
Equicoaching;
– individual and group coaching
– workshops Natural Horsewomenship
– home visits for training of horse and human in their region…
More info about Conny Kadia:
www.connykadia.com

Marie Thimm, near Hamburg
Training as an equine assisted Cavalo Coach 2022/23
More info to follow
Lahja Engelmann
Training as an equine assisted Cavalo Coach 2020/21
More info to follow
Alena Sidow
Training as an equine assisted Cavalo Coach 2020/21
More info to follow
Natasha Surkemper
Training as an equine assisted Cavalo Coach 2022/23
More info to follow
Xenia Rautenberger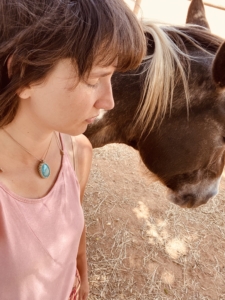 In my vision I see a space – an invisible space in which everything is allowed to be what is. In which everything that is in us is allowed to come up. Without rating. Without judgment. It is a space of silence. The acceptance. The unconditional love. In this room, laughter is no better than crying. Peace no better than unrest. In this room there is nothing to do and nothing to achieve. He is carried by the deep realization of how perfect simple being is. How perfect you and I and the world are. In this space, the question resonates: Who am I – really? I see a space where people discover fullness in emptiness. In which feelings are allowed to flow. In which every thought is allowed to show itself freely. And because horses are masters at all that, I see them in this room. Connected with us humans – in simple existence.
Contact: x.rautenberger@gmail.com
Sarah Weick
Mein Name ist Sarah, ich wurde 1983 geboren und wohne in Mainz. Ever since I can remember I have felt the strongest connection in nature, especially in contact with animals and in open-minded exchange with other people. This has also had a significant impact on my private and professional career. As a biologist, I have been leading ecological field studies for many years and have also furthered my education in coaching, communication, nutrition and Natural Horsemanship.
Through my training with Anna to become a certified equine assisted coach, it was immediately clear in my heart that this is where I would focus my efforts. In my experiences with horses as co-coaches, I always feel pure fascination and appreciation towards these sensitive beings.
For me coaching is to accompany you on your way TO and WITH yourself. Projections, fears, self-doubt, as well as old programming and thought patterns can spread like a fog inside us and cloud our vision. As a coach, it is important for me not to set up signposts for you, but to support you in clearing this fog. What do you need for a clearer vision? Self-care to boost your self-esteem or courage to be authentic? Communication and expression training to strengthen your effectiveness in interpersonal relationships? Even one-time coaching sessions, with or without a horse, can be very effective and great fun.
I look forward to hearing from you in German or English via email to sa.weick@web.de or via Whatsapp at 0049 (0)176 62670358.